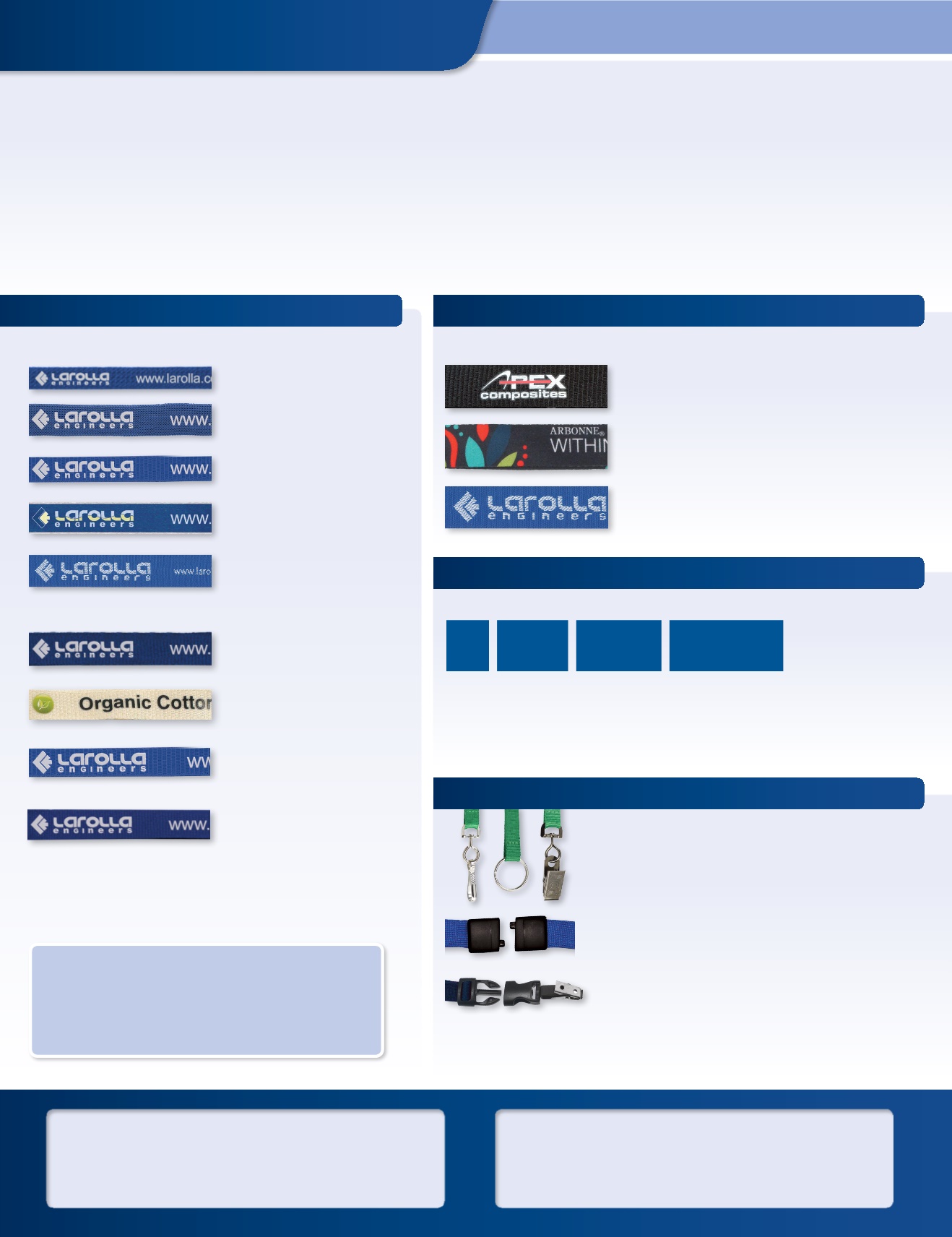 Custom lanyards help build brand awareness or promote your organization's message.
Lanyards are used to carry IDs, keys, pens, eye glasses, flash drives, cell phones, cameras, etc.
Custom lanyards also make great promotional giveaways or souvenirs for your event.
Silk Screen
The most economical imprinting method. You can
silk screen on almost every material with the exception
of Woven-In. Allows up to a 3 color imprint.
Dye Sublimation
(a.k.a. Dye-Sub) Color is dyed into
the fabric. Ideal for intricate designs. Endless color
options and shows gradient detail. For best results,
chose UltraWeave™ fabric.
Woven-In
Design is woven into the fabric. The tight weave
allows for a crisp and clean imprint. You can choose up
to 12 thread colors.
Standard Imprinting Methods
There are four
different width
options depending
on which material
you choose. The most
popular width is 5/8".
All other material types come
in all four widths.
1"
3/4"
5/8"
3/8"
Other Materials & AvailableWidths:
Bamboo: 3/8" & 5/8"
Woven In: 5/8", 3/4" & 1"
Flat Braid: 3/8"
OptiWeave™: 5/8"
Width Options
Attachment Options
An attachment is the component on the end of the lanyard
that holds ID cards, keys, cell phones, etc…Here are some
examples of standard lanyard attachments.
Safety Breakaway
A safety breakaway disconnects when pulled to prevent
choking. Most schools and hospitals require breakaways.
Specialty Attachments
such as the DTACH, are also available. Add a DTACH for
more versatility.
Flat Braid
Most economical choice.
OptiWeave™
Tubular Flexible Polyester. Great
for silk screen imprinting.
MicroWeave™
Most Popular!
Ribbed Polyester Material. Great print
quality and economical.
UltraWeave™
Smooth, satin-like polyester material.
Superior base for imprinting.
Woven-In
A polyester material in which the
design is woven into the fabric
Bamboo
Comprised of rayon fibers that are made
from Bamboo. Very soft to the touch.
Organic Cotton
Made with 100% organic cotton which
is grown without the use of harmful
chemicals or pesticides.
Anti-Microbial
Polyester material which contains
Nanoparticles that coat the material
fibers to prevent the growth of germs.
Recycled P.E.T.
Made from 100% recycled
polyester. (80% Pre-Consumer
& 20% Post-Consumer waste)
Specialty Material Types
Standard Material Types
This is just a sampling of our custom lanyard offering.
Turn the page for many more options and end fittings!
Design a Custom Lanyard in Four Easy Steps:
Why Would I Choose A Custom Lanyard?
4. Select your Attachment
3. Select your Width
2. Select your Imprint Method
1. Select your Material
4
See Pages 5-12
for more details
and options for Custom Lanyards!
Custom Lanyards are a
great way to promote your
business, organization or cause!
Custom Lanyards ship in 10 days.
(after proof approval)
Need it faster? Call for details.